Epic Egypt, Jordan, Israel & the Palestinian Territories
Booking Dates
07/02/2023 through 10/27/2024
Travel Dates
07/02/2023 through 10/30/2024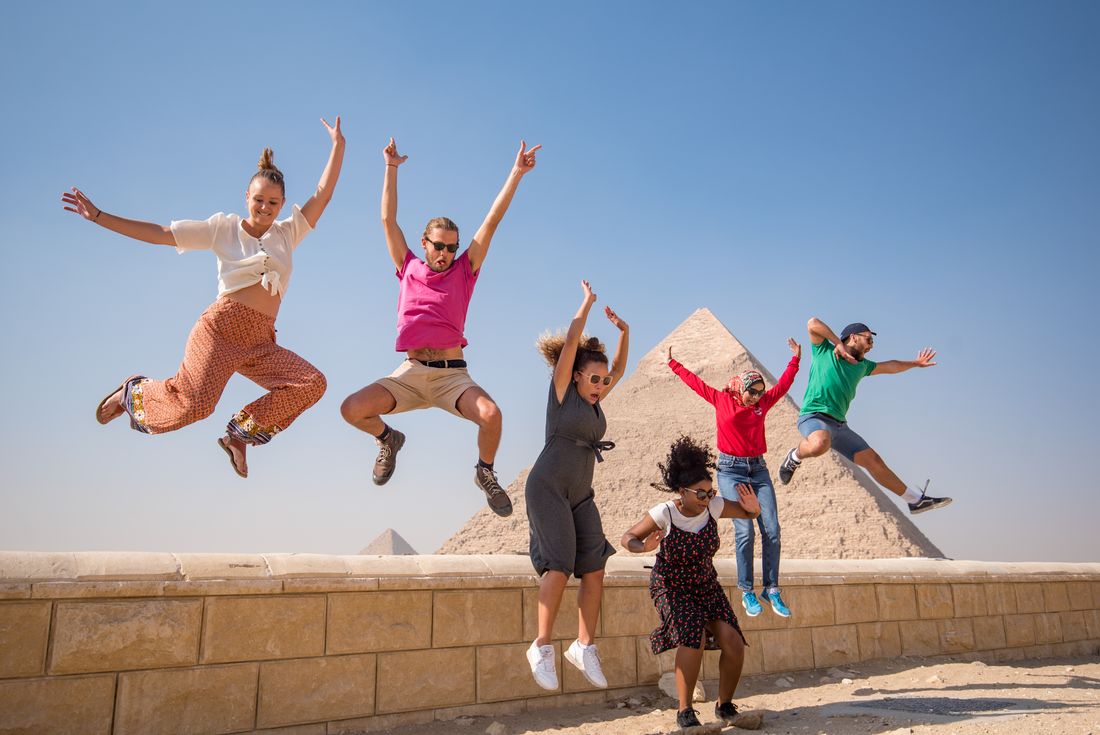 Epic Egypt, Jordan, Israel & the Palestinian Territories

The Middle East is living, breathing proof the old saying is true: you don't know until you go. Egypt, Jordan, Israel and the Palestinian Territories – visit the holy land trifecta and have experiences you'll never forget. This trip has all the icons plus tonnes of surprises perfect for the Intrepid traveller. The pyramids and original botched surgery queen (the Sphinx) in Egypt and doing your best astronaut impression in the Dead Sea are awesome, sure, but have you tried your leaders favourite falafel cart in Jerusalem?! 

Activities
Cairo – Pyramids of Giza and the Sphinx
Aswan – Kayaking
Aswan – Orientation walk & bazaar visit
Nile – Felucca overnight sailing trip
Nile – Dinner and Music Felucca
Luxor – Valley of the Kings (entrance to 3 tombs)
Cairo – Khan Al-Khalili Bazaar
Amman -Guided Walking Tour
Wadi Rum – Bedouin Desert Camp
Wadi Rum – 4WD jeep safari
Wadi Rum – Guided hike
Petra – leader-led tour of Petra
Madaba – St Georges Church
Jerusalem – Machane Yehuda Market & Bite Card
Jerusalem – Walk on the Ramparts of the Old City
Jerusalem – Western Wall (Wailing Wall)
Jerusalem – Church of the Holy Sepulchre
Dead Sea – Visit and float
Masada – Entrance & Cable Car one-way
Ein Gedi National Park – Hike
Jaffa – Town Visit
Jerusalem – Mount of Olives
Bethlehem – Separation Barrier Graffiti Tour
Bethlehem – Church of the Nativity & Shepherds' Field
Highlights
The Pyramids might be hyped, but when you see them you'll soon be saying oh mummy, I see the point (sorry).
Set sail on a felucca cruise along the Nile. Back in the day, these wooden boats had zero facilities, but our new pimped-out boat has western-style toilets on board.
Our guides are local and know all the best secret and hidden places to check out after a day of sightseeing
Only Petra's Treasury is stunning enough to be the temple of the Holy Grail (well, according to Indiana Jones at least), and you'll be blown away on a full day exploring the majesty and mystery of this world wonder.
Kick back in your own central hostel in Jerusalem, complete with movie room and rooftop .
Sample tasty local eats at the very cool Machane Yehuda Market where you can use your your bite card at any of the vendors.
Graffiti has filled the walls in Bethlehem by many artists over the years, including British Artist Banksy. Check it out on a walking tour with your leader.
Discover for yourself the town that everyone knows from the Christmas carols – Bethlehem – and find out about daily life in the epic city of Jerusalem as you chat with locals on the way to the Western Wall.
Float in the Salty waters of the Dead Sea.
Hike the iconic Masada Snake Path for some epic views across the Dead Sea and Jordan.
| Day | Description | View All |
| --- | --- | --- |
| Day 1 | Cairo | Details |
| Day 2 | Cairo/Pyramids/Sphinx | Details |
| Day 3 | Aswan | Details |
| Day 4 | Aswan | Details |
| Day 5 | Nile Felucca | Details |
| Day 6 | Luxor | Details |
| Day 7 | Luxor / Valley of the Kings | Details |
| Day 8 | Cairo | Details |
| Day 9 | Amman | Details |
| Day 10 | Wadi Rum | Details |
| Day 11 | Wadi Rum | Details |
| Day 12 | Petra | Details |
| Day 13 | Petra | Details |
| Day 14 | Madaba | Details |
| Day 15 | Jerusalem | Details |
| Day 16 | Jerusalem | Details |
| Day 17 | Jerusalem | Details |
| Day 18 | Tel Aviv | Details |
| Day 19 | Tel Aviv | Details |